Wood County Emergency Communications Inc. (WCEC) is an all volunteer Non-Profit organization, created to provide back-up and overload communications to all Public Safety agencies in Wood County, West Virginia and the surrounding counties in WV and OH. Read more in our
Mission Statement
to see what we do. For more information on Emergency Communicators and Amateur Radio read the "
Who is WCEC
" article.
Mobile communications command center setup

Skywarn operating under the National Weather Service

Digital Communications statewide via D.A.R.E.N.

Voice Communications via handheld and mobile radio and in house wired and wireless telephone systems.

Both fixed and mobile voice repeater setups available.

Long range WIFI internet available at site
To obtain information about a specific event or to enquire about becoming a member of WCEC please contact one of the following members by phone or use the 147.255 MHz repeater.
Our Address is:
Wood County Emergency Communications
Attn.: Kenneth Harris WA8LLM
319 Communications Drive
Waverly, WV 26184
Ken Harris WA8LLM / Unit 251
Home 304-679-3470
Cell 304-481-3840
E-Mail Kenny Harris WA8LLM
Terry Mills KC8TUE / Unit 254
Cell 304-494-1267
E-Mail Terry Mills KC8TUE
Judy Peterson N8UFQ / Unit 255
Home 304-699-9173
Work 304-865-3938
Cell 304-699-9173
E-Mail Judy Peterson N8UFQ
Wood County/Parkersburg Area 2022 Hamfest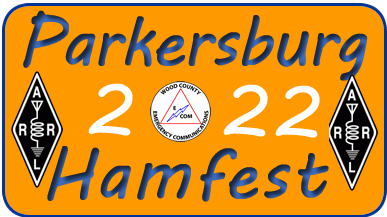 Admission: Adults $5.00 Children under 12 free. Bonus Admittance Ticket, plus 8 Extra Tickets - $10.00 (Increase your chances for the main prize).

Door Prize Drawings every 5 minutes, from 9:00am to 11:45am. (NEED to be present to win) Door Prizes held until 11:50am. Unclaimed Door Prizes will be redrawn at 11:50am until winner comes forward to accept the prize. Door Prizes to be announced and displayed.

Extra Drawing Tickets $1.00 each, or 6 for $5.00, 15 for $10.00, 30 for $15.00, 45 for $20.00, 60 for $25.00, 75 for $30.00, 100 for $35.00. Registration and Extra Tickets sold until 11:45am.

Breakfast, Snacks, and Drinks available starting at 6:30am

FREE Coffee all day

FREE outdoor parking and Flea Market

Indoor Tables are FREE to All Commercial Vendors.

Non-Commercial Vendors must register at least one week in advance for FREE indoor tables, otherwise tables will be $5.00 each at the door.

WSYI Amateur Radio License VE Testing at 9:00am, registration starts at 8:00am.

FREE Electrical Hookup

Door Prizes: Every 5 minutes, from 9:00am to 11:45am. You must be present to win - (prizes are subject to change)

50/50 drawing available at the door

Mobile Check-in Prize Announced at 11:00
6:30 - Breakfast in the basement - Biscuits and Gravy with free Coffee

7:00 - Open for tailgaters and vendor to set-up inside building (Vendors may set-up on Friday evening after 5:00PM with FREE overnight parking)

8:00 - Doors open for everyone & W5YI testing Registration (test at 9:00)

Free Coffee is ready (did we say that before)?

9:00 - 11:45 door prize drawings every 5 minutes (must be present to win)

9:00 - W5YI testing, walk-ins welcome, registration starts at 8:00am

11:00 - Mobile Check-in prize drawing (need to be present to win)

12:00 - Grand Prize Drawing (do not need to be present to win)

12:30 - If held - last 50/50 Drawing announcment.

2:00 - Doors close - HAVE A SAFE TRIP HOME!